opening hours
Today we are the
19/08/2022
The Hotel is open :
Dinner until 20h30
---
Please call to take your reservation.
OUR TEAM
Laetitia
Hello, I'm Laetitia coming from the Vosges. I'm happy tou welcom you but dont't speak English.
Valérie
My passion is to clean the rooms and suites. I prepare them for you with care and a lot of attention, my name is Valérie and I speak Alsatian.
Xavier
I'm an apprentice, i like cooking, that's why I choose this work.
Charlie
Hy! I'm the little chick in the kitchen. I have to learn with the others, not easy every day but I will have it!
Danielle
I have to keep an eye on my young colleagues. I am Danielle, daughter of hotel managers and I speak perfectly German.
Jacky
Jack is my name, I'm a cook of the old school, so I know to cook our traditional dishes. I want them to be fresh and good. If you liked your meal, please tell me it would make me glad..
Birgit
I am "die Chefin" what means I take care of you and check that the whole team is also doing it. Don't worry, you'll feel good.
---
HOLIDAYS ARRANGEMENTS
Segway Slow Move
Leisure weekend to discover nature, in a surprising and innovative way
---
Games and adventure
Leisure weekend for curious explorers
---
In and on the mountain
And the conquest of the mountains of Vosges
---
Other informations
Open days
---
Monday only for hotel guests
Tuesday only for hotel guests
Wednesday for lunch and dinner
Thursday for lunch and dinner
Friday for lunch and dinner
Samedi for lunch and dinner
Sunday for lunch and dinner
See also "opening hours". You can reserve your table per phone 0033389587077. Thank you.
guest card 2022
---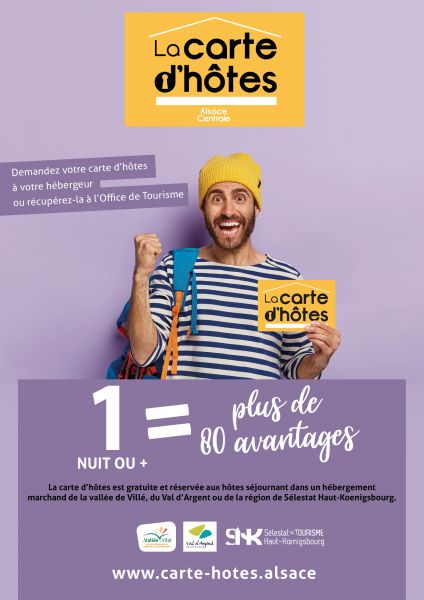 If you spend one night in Alsace centrale you can get advantages.
While staying in our hotel, ask us for the guestcard.